Slaves of Whom?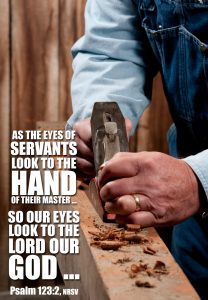 The opening pages of R.C. Sproul's 2019 commentary on the book of Romans reminds us of a necessary correlation we should take into account when we think about our spiritual identity as doulos (slave.) Slaves, by definition, belong to someone, and frankly, it matters in this discussion who we belong to! Paul declares in Romans 1:1 not only his identity as doulos (slave), kletos (called), and aphoridzo (set apart), but the identity of his Master as well. He is a doulos of Christ Jesus. Jesus Christ, the Savior, the Messiah, the Redeemer, the Son of God, the King of kings and Lord of lords is that Master of all those who by faith in Him are saved by grace.
Christian, you are not a slave of a mere man. To be such a slave would be a slave to brokenness, sinfulness, rage, jealousy, lust, selfish ambition, all the evils that proceed out of the heart of unredeemed humanity. The slaves of men are overshadowed by the sins of their masters. One reason we abhor human slavery as we do is the awareness of the injustice and inadequacy of such a relationship. The master is no better, from a moral and spiritual standpoint, than the slave, and vice versa. "All have sinned and fall short of the glory of God."
So, it matters who the Master is when we consider Paul's declaration that he is (and we are on account of faith) a slave of Christ Jesus. The question then is, who is this Jesus to whom we are called and set apart to belong? Paul provides ten descriptors of Jesus in the seven verses that comprise the introduction to Romans.
v. 1 Jesus is the Christ.
v. 3 Jesus is the focal concern of the gospel.
v. 2 Jesus as the Christ was promised by God verbally through the prophets and in writing in the Scriptures (a double witness to God's intent to provide Jesus as Savior)
v. 3 Jesus is a direct descendant of David (a necessary requirement for the Christ)
v. 4 Jesus is the Son of God (a relationship powerfully declared to be true by the resurrection of Jesus from the dead through the power of the Holy Spirit.)
v. 4 Jesus is Lord (thus in the role of absolute authority over all who belong to Him)
v. 5 Jesus delivers grace and mission to those set apart and called to serve
v. 5-6 Jesus is the Master (those called to belong to Him are called through faith to obedience to Him for His name's sake)
v. 7 Jesus is one with the Father
v. 7 Jesus, along with the Father, is the source of grace and peace to the believer.
Of course, Paul knows his audience and knows that they are familiar with these aspects of Jesus' person and mission. He will spend the rest of the letter to this church expanding on the gospel of Jesus and its implications for salvation and subsequent faithfulness. He will take the rest of this letter to reinforce and expand what they know before he calls them into action.
If you are one called by God and saved by grace, then you who were once a slave to sin are now a slave to righteousness and your Master is Jesus Christ. You know this. You recognize your utter dependence on Him and His utter reliability to you, and you respond to Him with desire and delight. Now you have two God given priorities, to love Christ and to serve Christ. To love Him requires you diligently pursue knowing Him. Make this your goal today, to know Jesus more deeply, more faithfully, more personally and intimately than you did yesterday.